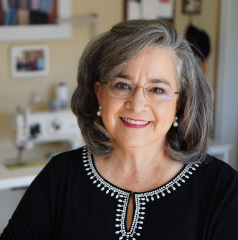 256.417.9985
---
Jackie is the owner of Useful Stitches, LLC. She loves to create useful or decorative window treatments and useful gifts. She grew up in a very crafty and creative family. Her grandma loved making baby and children clothes. Her grandpa sold fabrics and made tailored jackets. Her mother sewed everything under the sun with a specialty in fashion clothing.
Creating is definitely in her blood. After graduating from college with a Math degree and purchasing her first home, she took classes to learn how to sew so she could make her own drapes. Of all the many different kinds of sewing that she learned, her favorite was HOME SEWING.
She loves home sewing because it is very rewarding to turn a house into a HOME with the softness, textures, luxury, and colors of drapery fabrics. To complement her home sewing, she decided to go back to college and get her Interior Design Certificate. She loved every minute of each class and realized she should have studied Interior Design instead of Math. Thankfully, her math has helped tremendously with all the calculations and proportions necessary for each window treatment job.
Sewing has been a great career allowing her to be home with her four children. She continues to search out new knowledge in the field by attending seminars, taking classes, learning new techniques, business seminars, drapery design forums, and WCAA online chapter meetings. When she is not sewing, she is cooking, gardening, or creating useful gifts in Madison, AL.
Sewing Equipment
Industrial sewing machine, industrial blind hem, Industrial serger, Bernina serger, Bernina embroidery and sewing machine.